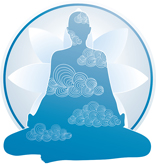 Traditionally, meditation was situated within the context of a set of religious beliefs, teachings, and practices. The objective was to alter everyday consciousness to reach a state of receptiveness to the goals of the tradition. The customary meditation posture involves sitting in a cross-legged position on a cushion with an awareness of bodily position. There are variations that include lying down, standing, and walking as well as other forms of movement such as yoga and qigong. Modern meditation groups may sit in chairs. Eyes can be closed or open and unfocused. Meditation may be performed individually or in groups. Some meditation teachers emphasize that meditation is a state of mind involving awareness and acceptance, and can thus be done at any time in the midst of any activity. There are countless forms of meditation, but most fall into three or four general categories: concentrative, open awareness, and guided – as well as the broadly defined practice of mindfulness.
Concentrative Meditation
In this practice the objective is to cultivate a single-pointed attention on some object, such as a sound, an image, the breath, or a flame. Through the training of consistently returning to the object of focus, the mind develops the capacity to remain calm, stabilized, and grounded. Many Western meditation teachers start beginners with this practice, most commonly focusing on the breath. In some advanced practices, states of bliss may be reached. The most well-known and researched form of the concentrative type in the West is Transcendental Meditation (TM).
Open Awareness
The objective of these forms of meditative practices is to open the mind into a panoramic awareness of whatever is happening without a specific focus. Often this awareness is compared to the spacious sky or a river with objects floating by. The capacity to be present with whatever arises is developed through this practice. The Zen sitting practice zazen, or shikantaza, is an example of this form of meditation practiced in the West.
Mindfulness
The most popular, widely adapted, and widely researched meditation technique in the West is known as mindfulness meditation, which is a combination of concentration and open awareness. Mindfulness is found in many contemplative traditions, but is most often identified with the Theravadan Buddhist practice of vipassana, or "insight meditation." The practitioner focuses on an object, such as the breath, bodily sensations, thoughts, feelings, or sounds. The focus is not as narrow as in concentrative meditation, for there is a simultaneous awareness of other phenomena. This mindfulness practice is often extended to daily actions, such as eating, walking, driving, or housework. The contemporary Western adaptation is typically removed from the rigorous contemplative training method of empirical introspection traditionally associated with Buddhism, which has as its objective the development of equanimity and clarity of perception.
Guided Meditation
All forms of meditation can be guided, and many are often practiced with recorded or in-person guidance at first, and then later with decreasing need for explicit guidance. In one form, called guided imagery, the practitioner follows auditory guidance from a teacher or recording that elicits certain images, affirmations, states (such as peacefulness), or imagined desired experiences. Guided imagery is popular in the West to facilitate health and well-being and is often used to rehearse successful outcomes of procedures, such as surgery or an athletic performance.
There are scores of variations of meditation, most of which range along a continuum of some combination of concentration and open awareness techniques. Defining and understanding the type of meditation being practiced represents some of the most important and challenging factors in the field of scientific meditation research. The difficulty of creating clear and consistent definitions of meditative practices is evidenced by the discrepancies found in many academic descriptions of meditation.
Source: http://noetic.org/meditation-bibliography/meditation-types